Enjoy The Slow Side Today With Our Bagua Qigong Classes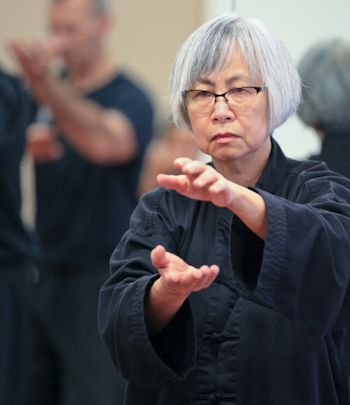 Bagua Qigong is a system of moving meditation that is recommended by many doctors as a great way for older men and women to enjoy slow movement, gentle stretching, and a focus on your breathing. Learn to relax at the deepest levels while you look and feel your best. You will develop a stronger, more supple body through Chi Kung practice.
At Blue Dragon School Of Martial Arts, we offer comprehensive instruction in this moving meditation AND we offer weekly Meditation sessions every Thursday that are open to the public!
Just fill out the short form on your screen to learn more!
Calm Your Mind And Improve Your Mobility With Bagua Qigong
Bagua Qigong represents the slow side Ba Gua Zhang. Ba Gua Qigong, also spelled as Qi Gong, and Chi Kung, is one of the most natural and effective exercise methods known to improve your physical and mental health. It focuses on breathing, movement, and internal calm. This instruction is similar to the teachings of Tai Chi and is a great way for beginners to get started and for older athletes to enjoy low-impact workouts. In no time, you can enjoy:
Improved focus and discipline
Reduced stress and anxiety
Total-body muscle toning
Gentle stretching and flexibility

Join Us In Bergen County For The Best Bagua Qigong Classes Around!
At Blue Dragon School of Martial Arts, we're proud to offer exciting instruction in this gentle discipline, helping you learn how to focus on your breathing and enjoy the inner calm that comes with it.
Just fill out the short form on your screen to learn more!